Nexus Intel LGA 1366 Backplate
---
Model number: 1366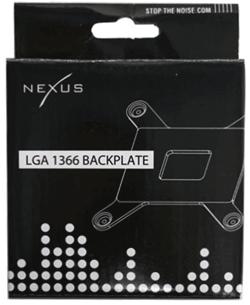 If extra stability is wanted for LGA1366 socket coolers choose the LGA1366 backplate
The LGA1366 backplate can be used with all the Nexus LGA1366 Socket coolers available, FLC-3000 and LOW-7000. Just like the LGA775 backplate, you screw this backplate on the back of your motherboard for extra stability.
Remark:
Both the FLC-3000 and LOW-7000 can be mounted on your motherboard without the LGA1366 bracket. When they are mounted without the bracket, the coolers are still within the Intel specifications.
The back plate is only an optional item, for users who prefer to use a back plate for extra stability.
Specifications: For Nexus LGA1366 Coolers
Dimensions: [ L x W x H ] 93.0 x 93.0 x 5mm ( 3.66″ x 3.66″ x 0.19″)
Weight: 70g
Included in this package: Backplate