120mm Fan Filters
---
Model number: FF-120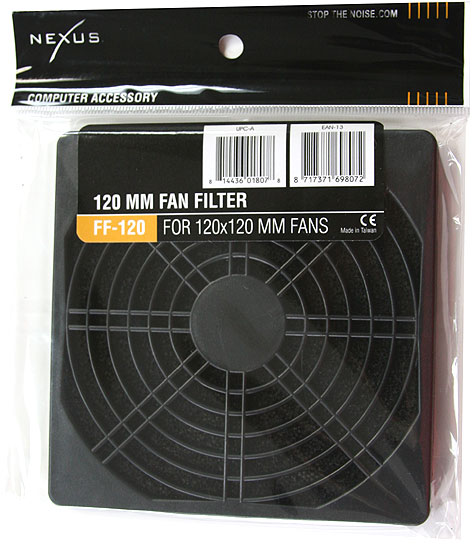 The Nexus Fan Filters are designed to keep your PC and PC components clean and minimize the chances of fan noise and even fan failure. The fan filter package comes with a fan filter cover, fan filter and inhalation bracket.
Lifetime Extender: A case fan blowing cool air inside a computer case, can also blow in dust and dirt. When this happens the fan can gather dust on its blades and get out of balance. This will eventually cause noise and the fan can even break down faster. A fan filter is a simple and efficient solution to keep your fans and computer case clean. Fans will remain clean and silent and you will extend the lifetime of the fans.
Dense Filter: The Fan Filter material is dense and efficiently keeps dust out. The filter is very easy to remove and clean. Clean your filters regularly to make sure airflow will not be obstructed.
Multiple Sizes: The Fan Filter is available in three different sizes, for most common fans.